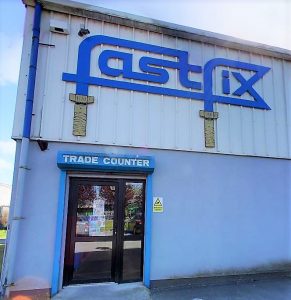 Company Mission
Fastfix Direct was founded in 1985 and is a privately owned Irish company. The main products of Fastfix are screws, bolts, nuts, rivets, stand-offs, spacers, turned parts plus many other types of Industrial fasteners and other related products.
Fastfix is especially good at sourcing specials and non-standard sizes.
Fastfix serves many types of industry and particularly those in computer, electronic, plastics, building, engineering, petrol-chemical, and furniture.
Turnover is currently between 5 and 6 million Euro per annum, and this is expected to grow beyond 7 million Euro per annum as we progress further into the millennium. 80 per cent of the turnover is sold domestically but Fastfix are developing markets in the U.K, U.S.A. and continental Europe. Export orders as far away as Greece and Singapore have recently been supplied by Fastfix. Regular shipments are now been sent to Cooper- Oil Tool – Canada, Dion Games- Greece, FLS Aero Space UK, Solectron-Wales, Philips B.V- Holland and VAX U.K.
Situated in Dundalk some 50 miles from Belfast and Dublin, Fastfix is ideally situated to gain quick access to road and rail, air and sea ports. There are now 15 employees in the company with an aggregate of well over a 100 years experience in the Fastener business.
Quality is the cornerstone of company policy. Fastfix has the distinction of being the first company in it's field to achieve certification to ISO 9000 quality systems and is a registered firm in the national standards authority of Ireland.
Fastfix has earned ship to stock status with major customers such as ABS Pumps, BOSE Measurex, Northern Telecom, Waterford Stanely. It is a further objective that ship to stock status be achieved with many more customers.
Fastfix also specialises in Kan-Ban services to manufacturers such as Siemens, Autotote, Anord Mardix, Bi-Tech and Chilton Electric (Glen-Dimplex),  Renley. This service is provided by Fastfix personnel who stock control and refill production line bins in the clients manufacturing plants.
It is the intent of management and all employees to make the name Fastfix synonymous with quality service within the Fastener industry world-wide.
Our Service
With our vast range of stock in our three warehouses we offer customers next day delivery on most items as they are in stock.  if the item you require is not in stock we can generally offer 3 days delivery on the items which will be quoted on order.
Our trade counter offers customers the opportunity to click and collect in store. We are located centrally in between Belfast and Dublin and a kilometer from Dundalk town center.
For larger deliveries we have a fleet of vans that offer customers delivery to site or their premises. We also offer companies a Kan ban service to them if you take a look at our testimonials you will see our wide range of Kan bans we supply to large companies.
Registration name – Fastfix Direct
Place of registration – Units 3 & 7, Industrial Estate, Coe's Road, Dundalk, Co Louth, Ireland A91 WV8P
Registered office address – Units 3 & 7, Industrial Estate, Coe's Road, Dundalk, Co Louth, Ireland A91 WV8P
Registered number – 613196